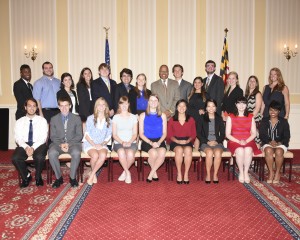 The 2015 GSIP Fellows following their policy presentations to Lieutenant Governor Boyd Rutherford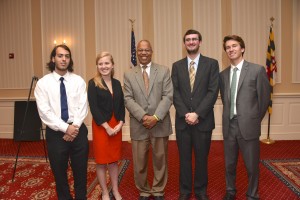 Taking the Lead on Lead Poisoning: Policy Proposals to Further Maryland's Goal of Eradicating Childhood Lead Poisoning
Bradley Beard (Loyola), Anthony DeCaprio (Loyola), Amy Hoffman (UMBC), Evan Leiter-Mason (UMBC)
Though great strides have been made in fighting lead exposure in Maryland, new strategies are necessary to reach children who are left behind by current policy. To make further progress in mitigating lead exposure, we advocate for universal lead testing of Maryland children, more funding for environmental assessments, stricter requirements on property owners for lead abatement, and increased education efforts. These policy changes will better equip the state in its efforts to eradicate lead poisoning, particularly for Maryland's most disadvantaged children.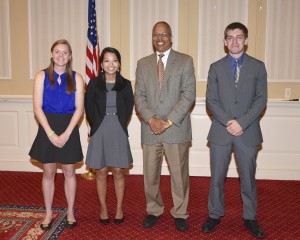 The PARCC Assessment in Maryland: Alternatives to a Failing National Test
Jeremy Matthews (UMBC), Caroline Faux (UNC-Chapel Hill), Abigail Thielemann (Davidson)
Maryland is in the process of implementing a new standardized testing system (the PARCC) and has joined a consortium of states to create tests which coincide with Common Core State Standards. Though noble in theory, the PARCC assessment has failed in both design and implementation: it has proven to be difficult to administer, excessively long, lacking in incentives for students and teachers, and no longer qualifies as a national standard, which defeats the purpose of its implementation altogether. Based on the criteria of time, accountability, cost, technical constraints, and national recognition, we have determined that the ACT Aspire, or a similar test, is superior to PARCC.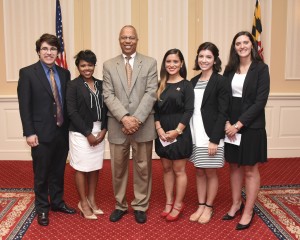 Proportionate and Purposeful Options for High Risk Probationers in Baltimore's Western District
Erika Calderon (Loyola), Molly Cioffi (Loyola), Madeline Jonz (Loyola), Mariyah Wright (Morgan), and Ellis Zapas (UMBC)
We are proposing a pilot project in response to a need for creative alternatives for high-risk probationers, a group with high numbers of drug addicted offenders who are disproportionately likely to re-offend and increase the already crowded prison population. Our proposal includes a sanctions matrix created using best practices from other states, research on behavioral therapy and deterrence theory practices, the current matrix used by the Department of Parole and Probation for VPI (Violence Prevention Initiative) and high-risk offenders, as well as the matrix used for probationers with designated status as substance abusers. This policy suggestion is a place based experiment in Baltimore City's Western District that can be implemented at little cost to no cost to the State with cooperative partnership between local law enforcement, judges, and probation officers.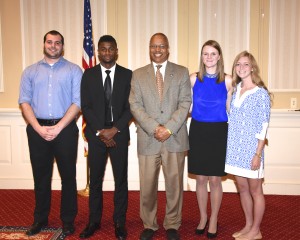 Where Do You Draw the Line? A Look at Maryland's Redistricting Policy
Erin Chase (St. Mary's), Carly Hviding (Quinnipiac), Nevin Hall (St. Mary's), and Nicholas Shenton (Syracuse)
Congressional redistricting has become a political and partisan process, and Maryland is no exception.  Home to one of the most gerrymandered districts in the nation, Maryland's current redistricting policy leaves voters discouraged, undermines principles of democracy, and allows politicians to pick their voters.  In an attempt to combat gerrymandering, we propose redistricting reform with the creation of a redistricting commission in the State. It is our hope that the establishment of a commission would lead to districts that better represent the State's demographics, create more competitive elections, and restore a sense of efficacy to Maryland's voters.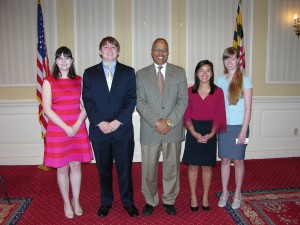 Abroad Initiative in Maryland
Katherine Southall (Gettysburg), Nicolas Anstett (Washington), Lily McFeeters (Towson), and Elizabeth Tran (Notre Dame)
The Abroad Initiative for Maryland (AIM) is designed to assist Maryland students in covering the cost of studying abroad during college.  By studying abroad, students gain invaluable skills and knowledge that has been proven to assist them in their academic, professional, and personal goals.  AIM is a scholarship which provides students with up to $1,500 for extra study abroad expenses in return for which students must provide a ten to fifteen page paper detailing how their host country deals with an issue similar to one affecting Maryland.  This program is designed to reach over 100,000 students and showcase Maryland as a progressive, globally conscious state.